Join us for the 2017 Game Devs of Color Expo and celebrate game developers of color! Play games by awesome creators as well as learn and share techniques for creating your own interactive media!
In our day-long event at the historic Schomburg Center, we will hold panels, talks, educational sessions, and an arcade – all featuring game developers of color. Hear discussions about the game development process, representation in games, and experiences within the games industry as people from different backgrounds in the large-capacity auditorium. Try out a selection of incredible games made by people of color in the spacious arcade.
Curious about what last year's event was like? Watch the recap on YouTube.
The 2017 Game Devs of Color Expo is open to people of all genders, races, and sexual orientations. We want this to be a safe space to express yourself. Please let us know if there's anything we can do to make you feel comfortable attending this event.
To claim one of the ten tickets we've sponsored, drop a note to tanya@ineeddiversegames.org with "GDOC 17 Ticket" in the subject line and let us know very briefly your need for a ticket.
Schedule
Doors will open at 11AM and close at 6PM. The arcade will be open from noon to 5:30PM. Panels, talks, and educational content will be announced soon – stay tuned!
Call for Proposals
Got something to say? We'd love to share it with our audience! If you'd like to speak during our event, apply before March 15! First-time speakers are welcome to apply.
Arcade submissions
Are you a game developer of color who wants to show your game at the arcade? Submit your game using this form! We will contact you to confirm. Those in and outside of New York City are encouraged to apply – although we may not be able to offer travel assistance if your game is accepted (depends on the amount of sponsorship we receive), our team can help showcase your work remotely.
Game submissions are open until March 15, 2017.
Volunteers
We need volunteers to help show games by developers of color outside New York City. Volunteers will receive free admission and help to show games at our expo on June 24, 2017. People who volunteer for the full event will be compensated with a gift card, food, and beverages.
If you will be available to help set up and show a game, fill out this application form. Application period closes on April 15, 2017.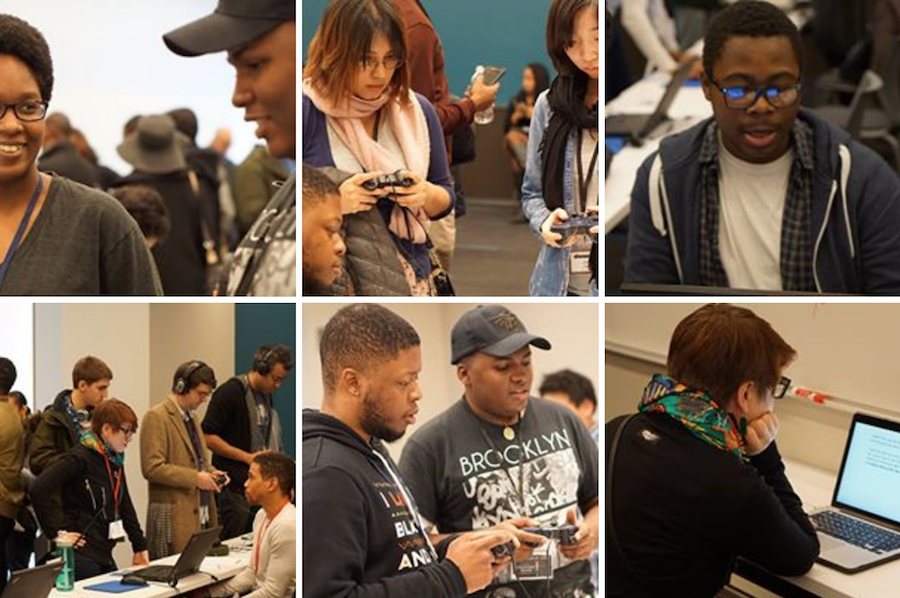 Code of Conduct
The 2017 Game Devs of Color Expo is a safe space where you can express yourself without fear of judgment or harassment. All participants and visitors are expected to treat other participants, visitors, staff, and the general public with respect. Under the umbrella of respect, we expect all participants be mindful of their speech and behaviors both in person and on social media. Particularly, we want to remind participants and visitors to refrain from making assumptions about another's identity, experience, and preferred pronouns.
No form of harassment or assault will be tolerated, this includes but is not limited to physical harassment, verbal harassment, and any form of sexual assault. Those who violate this policy will either be directed to leave the premises or reported to the authorities.
If you feel unsafe or uncomfortable, please talk with an organizer or volunteer. If you see someone being treated with disrespect, please speak up either yourself or by getting an organizer/volunteer involved. With your help we can make sure everyone involved is being treated with respect.
Need-based free tickets
Brooklyn Gamery aims to make this event accessible by offering low-cost tickets. However, we also know some people have low/no income and therefore are unable to afford the ticket price. If this is the case for you, please fill out this form – we will happily help you gain access to this event. This opportunity ends on June 15.
Press
All press inquiries can be sent to hello@brooklyngamery.com. Professional photography and videography is prohibited on-site without consent from Brooklyn Gamery and the attendees being recorded.
Pricing and Sponsorship
Brooklyn Gamery wants to make this event the best it can be. Since we're a 3-person studio, we can't do that alone. Ticket sales and sponsorship will help us to make the 2017 Game Devs of Color Expo into a quality event worthy of attendees' time.
Where does the money go?
Sponsorship money will go toward the following:
Tickets for attendees in need
The larger venue in Manhattan
Meals and snacks for attendees
Equipment for showing games
Compensation for volunteers
Compensation for speakers and workshop teachers
Travel assistance for developers
Collateral, badges, lanyards, and signage
Sponsorship Levels
You can view our sponsorship deck for information. Interested parties can contact us at hello@brooklyngamery.com, send us direct donations via PayPal (our preferred method), or use the Donation field available under ticket types.